Experience during BPI Draft 2014
September 26, 2014

— bpi drafts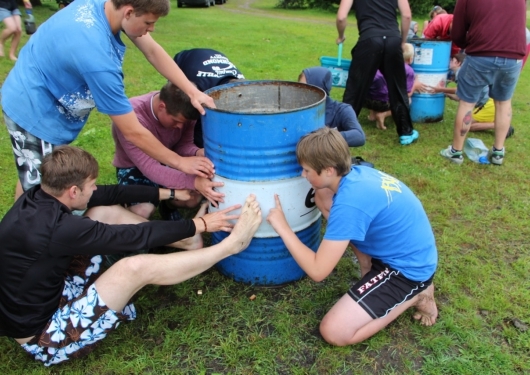 Show photo gallery
Experience during BPI Draft 2014
September 26, 2014 — BPI DRAFT
BPI DRAFT 2014
Summer and BPI DRAFT are two inseparable things in my life for the last six years. It is an environment where we are able to notice our new potential, to equip, challenge and encourage guys who one day will become men who will not be afraid to take responsibility, who will be ready to take a leadership role and to minister in the church. We will not have to wait long because we see this change already.
This year two BPI DRAFT camps were organized – first and second level. In the first level there were 32 participants together with more experienced participants (who were leaders). In the second level there were 15 participants. Guys came from Mersrags, Grobina, Uzava, Saka, Agenskalns, Matejs, Liepaja Ciana church, Liepaja Nacarete church, Ogre, Talsi, Pastende and Sigulda churches. This year compared to other times there were younger guys which is a very good thing because it shows that a new generation is coming into the church, and we can work with them. During the first level DRAFT guys were given comparison that a man is like lion who can decide to live free or to live in a cage. We talked about consequences of living in a cage, and how a man can be set free. We reminded them that Christ is like a lion who is the only one who can set us free and renew our masculinity. We encouraged guys to pray very seriously about their life calling and to live it to the fullest. DRAFT is usually full of physical activities which give even deeper meaning to the principles that were taught. Weather during the first DRAFT was very unpleasant – cold and rainy but it did not hinder anybody to give their 100%. At the conclusion of the camp every member set a goal for himself for the next 6 months and had to find a mentor that they will be responsible to for achieving that goal. Several months after the camp I heard stories that some of the goals were already reached. For example, Toms from Sigulda church went home and decided to get baptized. Nobody talked him into it, he made his own choice.
Second DRAFT as usual started in camp center "Ganibas" in Uzava, but then all participants went to Nica were Aivars Vadonis and his team is planting a church. For four days teams spent time learning what it means to live out Gospel, community and mission. Participants were taught how to start conversations with people without scaring them away; how to understand their context in which they want to start their mission, and how to preach the Gospel. Guys learned about Christian conduct in community and what kind of testimony we bring to the world through our behavior and life. Every day guys spent time learning theoretical information and afterwards they implemented this knowledge. Every day there was an opportunity to minister to locals through practical work – cleaning brush, stacking wood. Every evening different fellowship events were organized with local youth: volleyball, baseball, face to face conversations songs, and testimonies. During the last evening guys took initiative and organized a special evening with snacks, well prepared program and even decorated room. During the course of the evening the Gospel was proclaimed. 20 of the local young people showed up. During the event Aivars Vadonis offered to the local youth to regularly attend youth events. It looks like there will be youth events in Nica, and one of the DRAFT participants has offered to help and organize them.
It is exciting to see how guys' eyes and hearts burn for the Gospel and mission. But even more importantly is to see that they want to take this enthusiasm home and to continue to live out what they learned in their everyday life. For example, two guys from Saka church – Toms and Gints want to start evenings for teenagers once a month. Already now they are organizing the first hike. We are so happy that through DRAFT we could speak to the guys, and that they are seriously praying and thinking about their life's calling. This year three guys from BPI DRAFT will begin their studies in BPI: Lukas Balodis, Karlis Kleinhofs-Prusis and Maris Popmanis. These are guys who 5-6 years ago participated in the camp for the first time, but now they have grown up and have understood their calling to minister in the church.
Thank you to all who support BPI DRAFT, who believe in this idea. Thank you for sending guys from your churches. Please, support them, give them a chance to express their talents in the church, invest in them, do not rebuke them harshly if they make mistakes (we all have made mistakes). Help them to reach true maturity!
Kaspars Sterns
BPI DRAFT director
Back to news list